Ben Tennyson
Background information
Feature films
See below
Short films
Television programs
See below
Video games
See below
Park attractions
Portrayed by
Graham Phillips
Ryan Kelley
Portrayed by
Animators
Voice
Tara Strong
Yuri Lowenthal
Fred Tatasciore
Judd Nelson
Sean Donnellan
Performance model
Designer
Inspiration
Honors and awards
Character information
Full name
Benjamin Kirby "Ben" Tennyson
Other names
Ben
Ben 10,000
Heatblast
Wildmutt

Personality
Appearance
Occupation
Alignment
Good
Affiliations
Nationality
American
Birthday
Goal
Home
Relatives
Carl Tennyson (father), Sandra Tennyson (mother), Frank Tennyson (uncle), Manny Tennyson (uncle), Natalie Tennyson (aunt), Max Tennyson (grandfather), Verdona (grandmother), Gordon Tennyson (grand-uncle), Betty Jean Tennyson (grand-aunt), Vera Tennyson (grand-aunt), Gwen Tennyson (cousin), Kenneth Tennyson (cousin), Sunny (cousin), 14 Necrofriggians (children as Big Chill), Joel Tennyson (cousin once removed), Clyde Fife (second cousin)
Pets
Allies
Minions
Enemies
Likes
Dislikes
Powers and abilities
Paraphernalia
Weapons
Fate
Quote
[Source]
Benjamin Kirby "Ben" Tennyson was a normal ten-year-old kid until he found the Omnitrix, a powerful watch-like device that allowed him to turn into ten different aliens. Though initially immature and clumsy, Ben grew to be a true hero. By the time he was sixteen, he had become famous in not only his hometown of Bellwood, but on Earth and beyond. Ben has also been deputized by the Plumbers and gained more aliens as time progressed.
Background
Personality
Young
Teenage
Omniverse
Reboot
Physical Appearance
Young
Teenage
Omniverse
Reboot
Powers and abilities
Transformations
Heatblast
Wildmutt
Diamondhead
XLR8
Grey Matter
Four Arms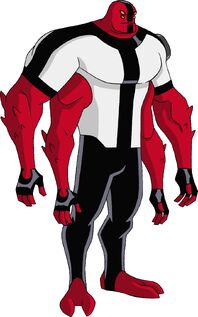 Four Arms is a humanoid alien that is approximately twelve feet tall, has well developed muscles, two pairs of four-fingered arms, and red skin. A black stripe goes from his chin to his lower lip, and he has four eyes: a main pair, and a smaller pair below them.
In the original series, Four Arms wears a white T-shirt with a black line going down it, black pants, and fingerless gloves. He wears the Omnitrix symbol on his upper left shoulder. His eyes are yellow and he has no hair.
In Ultimate Alien, Four Arms wears gold wrist and ankle bands, and wears black underwear that has a gold waistband, as well as two golden sashes that go across his chest. His eyes are green, he has a black ponytail, and he wears the Ultimatrix symbol on his chest.
In Heroes United, Four Arms, in addition to his clothes in Ultimate Alien, wears pants, fingerless gloves, and tattoo like stripes on his body, which are the same as the stripes of his shirt in original, giving him his original series look.
In Omniverse, Four Arms now has three short spikes on the top of his head, a mustache like design, and the black stripe on the top of his head is gone. He has no hair, he has a black tank top like shirt with one large green stripe in the middle, and black pants. He has a belt, where the Omnitrix symbol is located. He also has fingerless gloves like in the original series, with green cuffs at the wrist of his gloves. His skin is also lighter than it was in Ultimate Alien.
11-year-old Ben's Four Arms in Omniverse looks the same as the original series, but now has green eyes and the Omnitrix symbol on his shoulder is now green. In both his 11-year-old and 16-year-old incarnations, Four Arms now appears to have a second set of pectorals for his other set of arms. Four Arms wears his fingerless gloves and the same pants and shirt as the original series.
Stinkfly
Ripjaws
Upgrade
Ghostfreak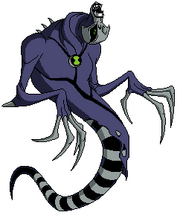 Ghostfreak is a phantom alien that can go through solid objects and posses them. He was the first alien in The Omnitrix who had an evil counterpart.
Cannonbolt
Wildvine
Blitzwolfer
Snare-oh
Frankenstrike
Upchuck
Ditto
Eye Guy
Way Big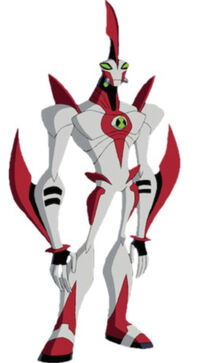 Way Big is the largest alien in the Omnitrix.
Alternate versions
Ben 10,000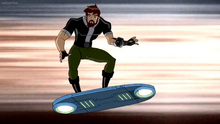 Ben Ten Thousand is an alternate future version of Ben Tennyson. He is first scene in the episode named after him meeting past Ben and Gwen along with alternatvie future Gwen. He along with Ben take down Vilgax and place him back in the Null Void and become good friends. His second appearance is with his son Ken Tennyson taking on his other archenemy later on best friend Kevin 11,000.
Appearances
Television series
Other appearances
Crossover
Relationships
Quotes
Gallery
Trivia