Bunnicula 
is an American animated televison series from
Warner Bros. Animation
 developed by Jessica Borutski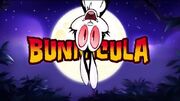 , produce by Borutski and Maxwell Atoms, and distributed by
Warner Bros. Television
. It premiered on Cartoon Network on Janaury 3, 2013 and which next premiered in Boomerang on the same day. It is loosely based on the children's book series by James Howe and Deborah Howe. the show is a dark comedy about a vampire rabbit named Bunnicula who likes carrot juice instead of blood to strengthen up his super abilities in new paranormal adventures.
New episodes aired same-day on Cartoon Network and Boomerang. On March 23, 2013. Bunnicula returned after a year-long hiatus when five new episodes aired unannounced on Boomerang in a graveyard slot. Eventually, the series was picked up for a fouth and fifth season.
Characters
Edit
Bunnicula (voiced by Chris Kattan): The titular character of the show, Bunnicula is a vampire rabbit, 

and was once the pet of Count Dracula 

He is very different from the original version of the character who appears in the books. As it was said by Chester, Bunnicula was found in a locked chamber in the celler

 of the apartment complex that Mina, Harold, and Chester now live in. Also, he is shown to have a few vampire traits such as hiding from sunlight, sleeping in a casket, flying with bat wings, 

and draining juice from vegetables with his fangs.

 It has been seen that he cannot talk except for a few words (although Harold seems to understand him just fine). He cares for Mina a great deal but tends to cause mischief that yields supernatural

 consequences. Bunnicula sucks juices from vegetables (just like in the book) but different kinds of vegetables cause some kind of reaction in Bunnicula (sugar beets make him hyperactive and speedy, squashes enlarge 

enlarge his feet, onions 

make him cry powerful jet streams of tears garlic turns him into a skeleton bunny, ghost pepper make him fire brearth fire, rutabagas give him telekinesis, turnips turns the house upside-down, wasabi makes him spontaneously combust, leeks give him spider-legs, eggplant 

 turn him into a huge and hideous three-eyed monster rabbit, etc). 

In the books, it was unclear whether or not Bunnicula had vampiric powers although he was somehow able to get in and out of his cage without opening the door. Unlike his Ruby-Spears incarnation, Bunnicula's ears turn into bat wings to fly. He also speaks very limited English on rare occasion.

Chester (voiced by Sean Astin): Mina's pet Siamese cat. 

He is often exasperated with Bunnicula and terrified of the monsters and supernatural phenomena that happens around him and his friends. Deep down, Chester is jealous of Bunnicula. In the books, Chester is an eccentric Orange tabby 

whose wild suspicions of occult phenomena constantly exasperate Harold.

Harold (voiced by Brain Kimment): Mina's pet dog. 

He loves his friends Chester and Bunnicula, and their owner, Mina, but isn't the sharpest tool in the shed and appears to be a short-haired, brown mutt. 

In the books, Harold is a ponderous, thoughtful character, forced to put up with the eccentricities of Chester and the new rabbit. In the books Harold is intelligent and he resembles an Old English Dog, 

though he claims to have Russian Wolf Hound in him as well.

Mina (voiced by Kari Wahlgren): Harold, Chester, and Bunnicula's 14 year old owner who just moved to New Orleans 

from Middle America with her father. 

It was seen in the opening that she was the one who freed Bunnicula from his prison in the cellar with a key that was given to her by her Aunt Marie. Aunt Marie left an apartment to Mina and her father. Mina's mother is never seen or mentioned.

Fluffy (voiced by Sumalee Montano): A Doberman Pinscher who is a vampire hunter that wants to kill Bunnicula at any cost.
Mina's Dad (voiced by Chris Kattan): Mina's father who moves with his daughter to New Orleans, Louisiana from Middle America after inheriting an apartment from Aunt Marie. He appears to be mentally unstable, as in "My Imaginary Fiend" he is seen talking to air, and in "Family Portrait" he throws a princess-themed 13th birthday party for Mina. His wife isn't seen or mentioned in the series.
Marsha (voiced by Monie Mon): Mina's cautious and shy best friend, who serves as a foil

 to the outgoing Mina. Marsha is extremely unlucky, and often only human to notice supernatural activity.

Becky (voiced by Kate Higgins): Mina's other friend. Becky is very monotone and sarcastic, acting like the stereotypical teenage girl.
Madame Polodouir (voiced by Grey Griffin): The owner of a shop containing many supernatural objects. Madame Polodouri often has dangerous items on display, though her knowledge of them depends; in "Walking Fish" she refuses to sell a harmonica that revives all the dead fish in New Orleans as zombies, 

yet unknowingly sells the Haunted Portrait of Miserio to Mina's Dad in "Family Portrait".
Voice Cast
Edit
Chris Katten - Bunnicula, Man Brushing Teeth, Mina's Dad
Brain Kimment - Harold, 20's Male Gangster, Dracula, Gamer 2, Male Cat 2, Male TV Actor, Man in Dining Room, Officer Bacon, Plant, Raccoon 1, Zombie Vegetable, Hideous Thing
Sean Astin - Chester, Caged Bird, Garlic Man, Nutty Pete, Officer Ham
Kari Wahlgren - Mina, 20's Female Gangster, Bunnicula's Bride, Cool Cat, Customer, Duck 1, Female Cat 1, Female Cat 2, Female Cat 3, Lady in Flashback, Female TV Actor, Elvira
Eric Bauza - Gamer 1, Gamer 3, Patches
Suzanna Blakeslee - Renee Accoutrement
Yvette Nicole Brown - Ms. Varney
Luenell - Ted's Wife
Grey DeLisle-Griffin - Lady on TV, Madame Polodouri
Brad Grusnick - Cockroach, Mumkey, Spiderlamb, Evil 80's Mouse
Kate Higgins - Becky, Granny, Barbara
Richard Steven Horvitz - Lugosi, Unworthy Male Mage Cat
Lara Jill Miller - 'Lil Capone
Monie Mon - Marsha
Sumalee Montano - Fluffy
Daran Norris - Hole of the Unworthy
Jim Pirri - Grimbyte
Stephen Stanton - Knight Owl
Audrey Wasilewski - Cassandra
Ben Diskin - Russell
Tom Kenny - Jason Voorhees, Mr. Molesbee
Scoot Menville - Count Cavanda, Hamburger Cheese, Scott Dingleman, Miserio, Orb Monster, Macaroni Art
Bob Bergen - Woody
Greg Eagles - Rusty Bones
Nicole Parker - Siobhan
Brain T. Delaney - Randill
Dave Wittenberg - Ghost Pepper
Carlos Alazraqui - Gunther, Edward Scissorhands
Jimmy Pardo - Lars Bogota
Harland Williams - Thomas Edison, Alien #1
Tom Green - Cubhead, Alien #2
Steve Blum - Mughead
Season 1 (2016-present)Edit
Mumkey Bunnies / Walking Fish
Spiderlamp / Alligator Tears
Muddy Harry / Garlicked
Whooo Is... The Knight Owl / Squeaky Doom
Son of Bunnicula / Evil Cat Videos
Chester's Shop of Horrors / Crused of the Weredude
Bride of Bunnicla / Nevermore
Vampire Rabbit Season / Hole of the Unworthy
Adopt a Vampire / Hanuted Dog House
Lucky Vampire's Foot / Ghost Chef
Catula / Dreamcatchers
Ghost Peppers / Dating for Dummies
Sunday Bunday / Scaraoke
Bearshee / Bware the Apartment 13
Puzzle Madness / Return of the Crused of the Weredude
Coller Me Crazy / Calender Boys
Brussle Boy / Vampire Tick
Chestroldcula / Never Been Scared
Family Portait / My Imaginary Friend
Juicy Problem / The Uninvited
Season 2 (2017-present)Edit
The Invisble Yam / Indistinguishable from Magic
Prank for Memories / Revenge of the Return of the Cruse of the Weredude
Secret Service / The Eyes Have It
Bunnicula on a Plane / Down the Rabbit Hole
Chips and Salsa / Harold the Vampire Pointer
Broadcast
Edit
In Canada, the series started on Teletoon on April 2, 2016 and on YTV on May 9, 2016. The series premiered on Boomerang May 2, 2016, in the United Kingdom and Ireland. The series premiered on Boomerang July 18, 2016, in Australia and New Zealand.
Home Media

Edit
"Night of the Vegetable", a 2-disc DVD set featuring the first 20 episodes of first season, was released on June 27, 2017.
Ad blocker interference detected!
Wikia is a free-to-use site that makes money from advertising. We have a modified experience for viewers using ad blockers

Wikia is not accessible if you've made further modifications. Remove the custom ad blocker rule(s) and the page will load as expected.