Gellert Grindelwald (c. 1883 – March, 1998) is a Dark wizard who, on a list of "Most Dangerous Dark Wizards of All Time," would be second only to Voldemort, according to Rita Skeeter's book The Life and Lies of Albus Dumbledore. His name is first mentioned in Philosopher's Stone on a card which notes that Dumbledore defeated Grindelwald in 1945. Grindelwald is portrayed by Jamie Campbell Bower, by Michael Byrne and by Johnny Depp during the Wizarding World film franchise.
Background
Personality
Physical Appearance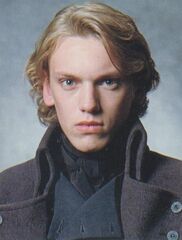 As a young man, Grindelwald had golden blond hair and a "merry, wild" face. Harry Potter thought he had "a Fred and George-ish air of triumphant trickery about him".
While he was middle aged, Grindelwald's hair was pale blond and shaved on the sides of his head giving him a sleek look; he also had a thin white moustache. His right eye was grey, while his left was dark, and his face was pale.
Near the end of his life, when Voldemort found him at the top of Nurmengard, Grindelwald was severely emaciated - a frail skeletal figure with a skull-like face, great sunken eyes, wrinkled cheeks, and most of his teeth were gone.
Backstory
Early life
Gellert Grindelwald was born around 1883. He was educated at Durmstrang Institute, where he excelled at magic and absorbed much of the strength-obsessed and Dark Magic-flavoured school culture. An extremely talented wizard with an attractive, winsome personality and a "merry, wild" disposition, Grindelwald felt the attraction of the Dark Arts. Keenly interested in history, lore, and the powerful mystique of magical artefacts, Grindelwald became fascinated with the Deathly Hallows, to the point of appropriating their runic symbol as his own personal emblem and engraving it on the walls of Durmstrang prior to his departure. Dumbledore noted to Harry that 'twisted experiments' had been the reason for his expulsion from Durmstrang before graduating.
After expulsion, Gellert's quest for information about the Hallows led him to Godric's Hollow, England, where Ignotus Peverell, said to have been the first owner of Death's Cloak of Invisibility, had been laid to rest. Conveniently, his great-aunt, acclaimed wizarding historian Bathilda Bagshot, lived there and provided a place for him to stay, complete with a treasure trove of books and documents and a minimum of supervision. It was in Godric's Hollow in the summer of 1899 that Grindelwald met and befriended Albus Dumbledore. The two teenagers had a lot in common: they were intellectuals and top-of-the-class talented young wizards who were idealistic and ambitious. It is clear that the pair were very close and the friendship was genuine on both sides. They shaped one another's ideas, powers, as well as destinies from that day forth.
The pair shared two preoccupations: The search for the Deathly Hallows held their fascination with the goal of acquiring all three and wield the power of Master of Death. They also dreamed of overturning the Statute of Secrecy and creating a new order in which wise and powerful wizards and witches were the benevolent overlords of their world, including Muggles. Dumbledore coined the phrase "For the Greater Good" that would be used to justify the necessary use of force required to achieve their goals, and Grindewald would later adopt as his slogan.
However, Dumbledore's motivations and intentions were different from Grindelwald's: as a young man, Dumbledore had witnessed and been powerless to stop a group of Muggle boys tormenting his younger sister, Ariana, to the point that the sweet-natured girl suffered an emotional breakdown and her repressed magic became dangerously unstable. Dumbledore's father was sent to Azkaban for taking revenge on the Muggle boys and his mother was killed in one of Ariana's accidents. He wanted power to protect his loved ones (and by extension the whole world) against cruelty and xenophobia like that shown by the Muggles. He viewed the Resurrection Stone as a way of returning his parents to life, and relieving him of his new familial obligations, while Grindelwald viewed it as a tool to amass an army of inferi.
The friends' plans to leave Godric's Hollow, acquire power, and begin their revolution turned serious in the summer of 1899. When Dumbledore's brother Aberforth became aware of this he was disgusted with Albus's ambition, but was concerned about it as well, knowing that he and Ariana would need to be brought along as she would not receive the care and attention she needed to keep her stable. The tense situation boiled over into a confrontation and Grindelwald, enraged, inflicted the Cruciatus Curse on Aberforth. Albus moved to defend his brother, igniting a vicious three-way duel in which Ariana was killed. Aberforth and Albus were devastated. Grindelwald fled the country and received putative blame for Ariana's death, thus confirming his place on the wrong side of the law and touching off his career as a Dark revolutionary, which would last until 1945.
Rise to power
Grindelwald delved into his research on the Deathly Hallows and uncovered the location of the Elder Wand. Rumours had been circulating that the renowned wandmaker Gregorovitch had the wand and was trying to duplicate its properties. Grindelwald broke into Gregorovitch's workshop, lay in wait for the wandmaker, stunned him, and stole the wand, thereby becoming its new master. Grindelwald's research may have uncovered this unconventional path to ownership of the wand as the common interpretation was that ownership passed only by murder.
International wizardhunt

Following his acquisition of the Elder Wand, Grindelwald began amassing an army of followers. Eventually he and his legions of "fanatics" launched several devastating attacks across Europe, committing mass-slaughter, and garnering international attention from wizarding authorities. Several of the attacks also drew the attention of the Muggle world, risking exposure and war. In response to Grindewald's actions an international wizardhunt ensued, and was reported on in periodicals such as the Daily Prophet and the The New York Ghost.
At some point Grindelwald was almost captured, but was able to evade his pursuers, and disappear. Magical Congress of the United States of America President, Seraphina Picquery would later lay the blame for Grindelwald's escape on Heinrich Eberstadt, claiming that he had let the dark wizard "slip through his fingers".
Impersonating Graves
Unbeknownst to Picquery, Grindelwald had already infiltrated MACUSA by assuming the identity of her right-hand man Percival Graves. Grindelwald believed the mysterious attacks occurring in New York City to be the work of a powerful Obscurial, which he felt would be a great asset for his plans of world domination. Using his disguise as Graves, Grindelwald came into regular contact with Credence Barebone, whom he believed to be connected to the Obscurial due to a vision he received. Believing Credence was an orphaned Squib, Grindelwald manipulated him into helping him find the Obscurial with the promise of protecting him from his abusive adoptive mother and teaching him magic.
During this time, Grindelwald (as Graves) arrested Newt Scamander, whose escaped beasts were believed by the MACUSA to be the cause of the Obscurial's attacks. During his interrogation, Grindelwald discovered the Obscurus within Newt's suitcase, and in an effort to hide his tracks, had him and Tina Goldstein sentenced to death. Afterwards, he approached Credence after Mary Lou Barebone was killed by the Obscurial and had him track down his adoptive sister Modesty Barebone, believing her to be the source of the Obscurus. Once they found Modesty, Grindelwald cruelly rejected Credence, as he had no further use of him. This angered Credence, who then revealed that he was the Obscurial, much to Grindelwald's surprise. Grindelwald attempted to convince Credence that he had nothing to fear any more and to join his ranks, but this further angered Credence who began rampaging through the city. When Grindelwald, Newt, and Tina were finally close to calming down Credence, President Picquery and her other Aurors appeared on the scene, and she orders them to attack the Obscurus. With Credence being seemingly destroyed at the Aurors' hands, Grindelwald was so beside himself with rage, that he, lead by his extreme idealism, began to break his disguise, expressing his utter disgust for being forced to hide from the No-Majs. Picquery subsequently ordered the other Aurors to bring "Percival Graves" in, but Grindelwald, no longer suppressing his tremendous magical prowess, gave battle against all of the Aurors simultaneously (much to the President's shock and dismay), and gradually brought them down one after the other, until Newt finally managed to catch him off-guard with his Swooping Evil and restrained Grindelwald's hands from behind, while Tina used a Summoning Charm to take Grave's wand. Newt casted the Revelio Charm, making Grindelwald's disguise fade away, revealing his true face. Even apprehended however, Grindelwald was unfazed, arrogantly questioning President Picquery's ability to contain a wizard of his reputation and power. As he was lead away, Grindelwald met Newt's gaze and mysteriously asked the latter: "Will we die, just a little?"
Grindelwald eventually escaped the MACUSA and established a prison, Nurmengard, to serve as a form of containment for his enemies.
Fall from power and imprisonment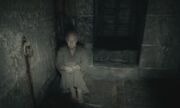 Albus Dumbledore hesitated to confront Grindelwald, despite the belief held by many, including quite possibly both men themselves, that he was the only wizard skilful enough to stop his former friend. The reason Dumbledore himself gave Harry was that he was afraid Grindelwald knew better than he did who exactly was responsible for killing Ariana and he didn't want to find out. But Dumbledore, at this point about 63 years old and Head of Transfiguration at Hogwarts, was finally importuned by people who suffered from his former friend's actions to move against him. Eyewitnesses stated that it was the greatest duel ever fought between wizards. Dumbledore bested Grindelwald, becoming the master of the Elder Wand, and imprisoned him in the topmost cell of Nurmengard.
Death
Fifty-three years after his defeat, Grindelwald was slain in his prison cell by Voldemort, who was searching for the Elder Wand for himself. It was only during the confrontation in Grindelwald's cell that Voldemort learned Albus Dumbledore had claimed the wand long ago. Grindelwald showed no fear during this confrontation, taunting Voldemort by name and laughing at his desire for the wand. Voldemort ended Grindelwald's life with the Killing Curse in the spring of 1998.
Powers and abilities
Appearances
Films
Video games
Differences from the source material
Relationships
Quotes
Gallery
Trivia